Bovine respiratory diseases compromise the animals' health and welfare, as well as productivity in young cattle under intensive fattening systems, which affects the daily weight gain (the slaughtering weight is reached later than in healthy bulls) and increases the costs for veterinarians and medicine, more labour hours per animal to apply the medicine, and higher rates of antibiotic usage. All these factors decrease efficiency. Bulls which have suffered from a respiratory disease will show reduced performance throughout the whole fattening phase. A farmer of finishing bulls in Germany stated that when the young bulls arrive on the farm and are housed together in their pens, almost every bull develops a respiratory disease. On this particular farm, the animals are housed in a stable, interspersed with straw in the resting area and slatted floors in the feeding alley. They are fed corn silage mixed with straw and concentrate. Once the animal is older, they are fed only corn silage and concentrate.
The first sign of a respiratory disease is a rise in body temperature. Treatment is more efficient at this early stage of illness, as less medication is needed and the cure rate is much higher. Bulls treated in this phase of illness are more likely to use their full production potential. As it is difficult and dangerous to measure body temperature with a clinical thermometer in bulls, the farmer elected to use an automatic ruminal monitoring tool: the bolus smaXtec (Austria).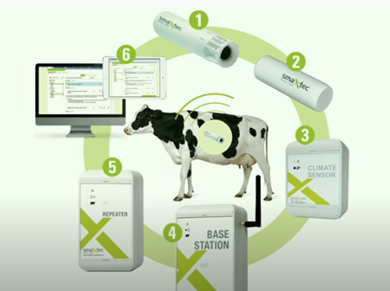 When the young bulls arrive on the farm, they are weighed and the bolus is administered into the reticulum of each bull. The farmer needs no additional software apart from the application linked to the bolus on his computer or mobile phone. Thus, he receives daily updates of the body temperature of his herd. If the temperature of one bull is rising, an alarm notifies the farmer. The animal then can be separated and treated appropriately according to its symptoms.
The benefit of using this device is the real-time notification when the body temperature of one animal rises, which allows treatment to start at a very early stage of illness and protects the animal from serious illness. Thus, the daily gain of the herd can be higher and the bulls can perform better and reach higher slaughtering weights. The labour hours per animal and costs for medication can be significantly reduced.
The implementation is very fast: the bolus simply needs to be purchased and inserted. The veterinarian oversaw the first applications to make sure they were administered correctly. The farmer needed a few days to become accustomed to the handling of the monitoring app on his mobile phone.
Three lessons learnt could be relevant for other practitioners wanting to implement good practice:
monitoring systems in finishing bulls can improve the overall performance in the fattening phase;
monitoring systems need to be easy to install; and
monitoring systems need to be target-orientated.
Source of information:
Further information: