Introduction to the challenge addressed
The lack of transparency on beef prices and especially beef price market returns has long been a very contentious issue between farmer and factory (processor) in the export orientated Irish beef sector. Following a period of prolonged poor beef prices and difficult farmer protest in 2019, a Beef Taskforce involving the stakeholders was established. As part of the Taskforce and in a move to bring some new transparency to beef market price returns, Bord Bia introduced a Beef Market Tracking mechanism on its website.
Description of the Good Practice
The Bord Bia Beef Market Tracker enables Irish beef farmers compare beef prices to those in the main markets, where Irish beef is sold. It is based on 6 series of price comparisons.
R3 Irish steer price -v- UK steers and EU young bulls – compares the price of R3 steer beef in Ireland with steers in the UK and young bull prices in the EU.
Irish composite price -v- export benchmark price – compares the average price of animals slaughtered in Ireland across all categories and the main grades to the cattle price in the main export markets of the UK, France, Italy, Germany, the Netherlands and Sweden.
Prime Irish composite price -v- prime export benchmark price – similar to the last price series, except it focuses on prime steers, heifers and young bulls only.
Irish composite price -v- EU (excl. UK) benchmark price.
Prime Irish composite price -v- prime EU (excl. UK) benchmark price.
US by-product market indicator – tracks US hide and offal (red offal and white offal) prices.
On the web site, farmers can check where Irish cattle prices are and by comparison work out if they are receiving a reasonable beef price compared to the prices being paid for cattle in the main export markets. This helps bring some level of additional transparency to beef price market returns.
Impact of farm performance
The Beef Market Tracking Platform improves beef price transparency and while not increasing beef prices per se, it provides greater reassurance to farmers on whether or not they are receiving a fair price for their animals based on market return. This is very important for farmers in beef sector, where price transparency has been very lacking in the past and in turn helps contribute to socio economic resilience.
Audio-visual material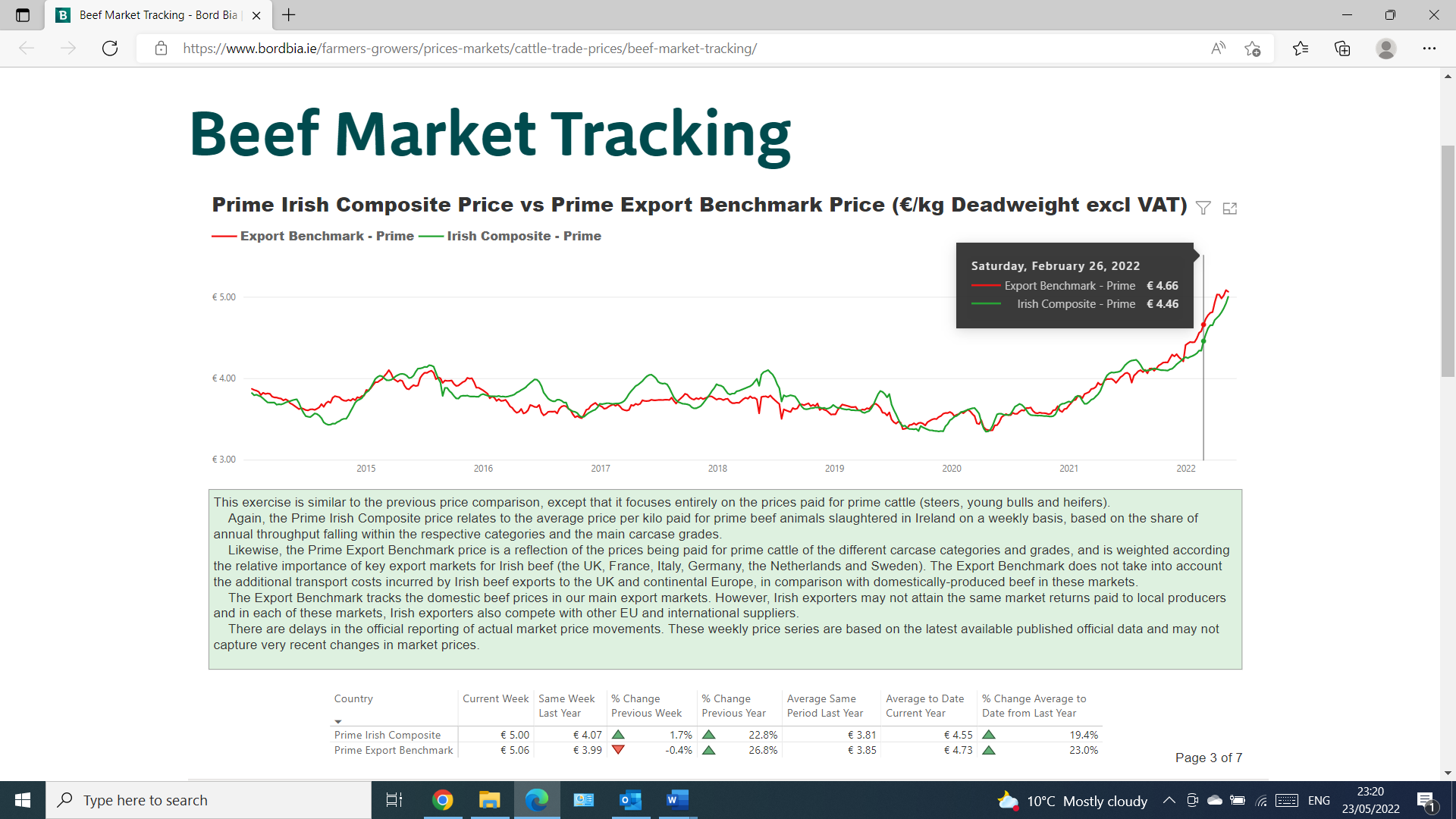 Video
Farmer comment
"The Bord Bia beef market tracking certainly provides more price transparency and enables essential comparisons between Irish prices and those prevailing in our main export markets. It also helps to work out if the factories are returning a fair price back to the farmer."
Further information
https://www.bordbia.ie/farmers-growers/prices-markets/cattle-trade-prices/beef-market-tracking/
https://www.bordbia.ie/industry/news/food-alerts/beef-price-benchmark-highlights-market-difficulties/