Establishment of a notation on the meat product, which indicates the level of remuneration of the breeders : the "Remunerascore"
Description of Innovation
The "Remunerascore" is a display intended to provide the consumer with information relating to the remuneration conditions of beef producers. This "Remunerascore" shows, in an easily understandable way for consumers, the impact in terms of producer remuneration of the prices at which their products are purchased.
The "Remunerascore" is a system indexed to production costs, ranging from A+ to F grades. The A+ rating indicates that 100% of the breeder's production costs are taken into account: the income for the producer is then 2 "guaranteed minimum wage" . The F rating is equivalent to the total absence of income for the producer!
Between A+ and F, differentiated incentive levels have been introduced (a smaller gap to go from E to D than from B to A).
The "Remunerascore" aims to bring transparency to the price paid to the producer, to the consumer. It is through transparency that there will also be better remuneration for breeders and a fairer distribution of value in the food chain.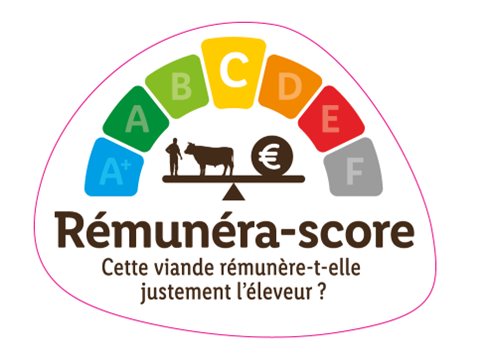 Impact on farm performance
A fairer distribution and creation of value in French agricultural sectors – and in particular the beef sector and breeder

Increased attractiveness of the profession and renewal of generations in cattle breeding

Encourage better remuneration for breeders
Audio-visual material
Remunerascore explanation video, by Michel Biero, CEO of LIDL :
https://www.lineaires.com/la-distribution/lidl-teste-le-remunera-score-en-baeuf-video
Display of the Remunerascore on a meat tray :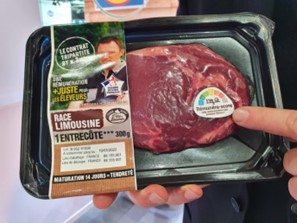 Launch of the Remunera-score during SIA2022 in the presence of LIDL, the FNB, the Prime Minister "Jean Castex" and the Minister of Agriculture "Julien Denormandie":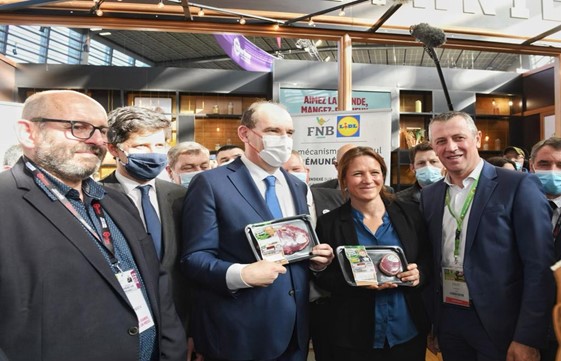 Farmer comment (for Good Practices)
The "Remunerascore" responds to two major challenges for breeders: that of transparency, which is the key to a better distribution of value within our sector, and that of taking into account the cost of production for breeders. , in constructing the price of their products. Because that is the whole point of the "Egalim 2" law: finally allowing breeders to be paid up to their production cost," says Bruno Dufayet, Salers cow breeder and president of the FNB
Further information
Law egalim 2 - article 10 'Remunerascore' :
https://www.legifrance.gouv.fr/jorf/id/JORFTEXT000044220683