https://ec.europa.eu/eip/agriculture/en/find-connect/projects/bovine-beef-innovation-network-europe
Introduction
Nowadays, in Flanders, fewer and fewer meadow birds are present in agricultural fields. Fewer bird sounds are heard and fewer birds are fluttering over fields and meadows. Lately, meadow birds have had difficulties finding suitable spots to nest and raise enough chicks due to more intensive agriculture. Many farmers want to help meadow birds, by adapting their farming practices to the nesting behaviour.
One way to find nests is to go into the field to search for them. However, doing this will leave a trail, which makes it easy for predators, such as foxes and martens, to find the nest. Some nests are often very difficult to find. For this, using drones to find nesting spots is a new technology, that optimizes the search efficiency and lowers disturbance.
Description of the innovation
Many species of birds such as Eurasian Curlew, Northern lapwing, black-tailed godwit, harriers, partridge, Eurasian skylark, etc. are struggling to survive. An important ecosystem is threatened with collapse. Field and meadow birds are bound to a specific biotope: arable land and meadows. This is where they find their food and where they reproduce. Many of these biotopes are not suitable anymore or have completely disappeared due to the intensification of agriculture, leading to a decline in meadow birds. Four factors are responsible for this decline: the disappearance of suitable nesting and sheltering places, a lack of summer food (larger insects), a lack of winter food (all kinds of seeds), and increased predation. Many nests never hatch because they are (often unintentionally) destroyed by agricultural vehicles or fall prey to predators. The decline in their populations is alarming. An important ecosystem is at risk of being broken, with negative consequences for nature, the environment, agriculture, food production, insect control, etc.
Vogels in nesten - Belgium
In Belgium, the project 'Vogels in nesten' was launched. Here, drones are used to localize nests. This is new in Belgium, however, in the Netherlands, this is already successfully implemented for years. Nests can be quickly and easily located in the landscape by a drone equipped with a thermal imaging camera. In this way, nests can be protected and followed up.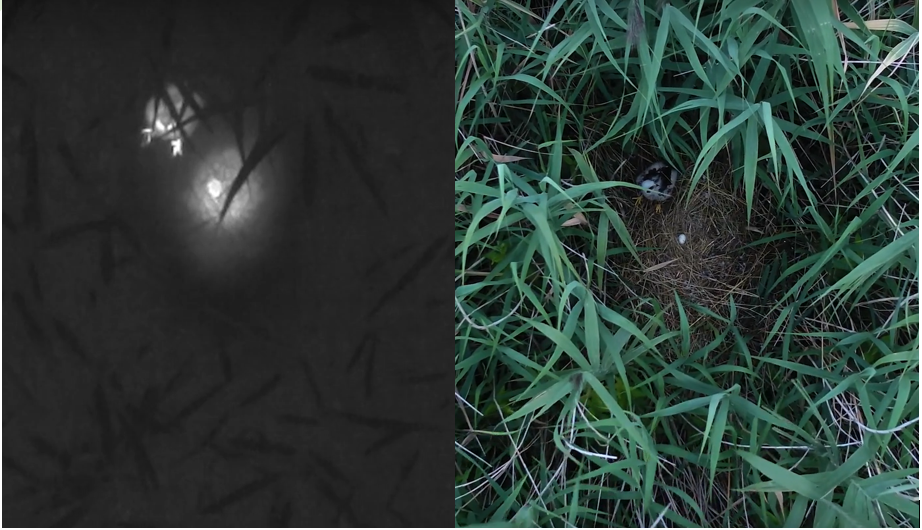 Picture thermal camera Picture real life
Falcoflight deploys this technique in Belgium. Outside the breeding season, the drone with a thermal imaging camera will be used for various purposes: nature studies, tracking nests of Asian hornets, saving fawns, wildlife management, etc.
The project 'Vogels in nesten' aims at:
Protect and conserve meadow and field birds
Increasing and restoring biodiversity for the benefit of nature - agriculture – consumers
Working cost-effectively - acquiring reliable data – monitoring
Bringing nature - agriculture - people closer together
Giving you and the next generations the chance to enjoy nature.
Project AGROS – the Netherlands
The main goal of the AGROS project (Evolution to sustainable AGRIcultural Operation Systems) is to develop tools that can steer production towards more efficiency in de deployment of energy, water, plant protection products, and labour. Together with '4D Precisienatuurbeheer', a method is developed to monitor grasslands from the air. This way, grasslands are mapped and analysed how suitable they are for meadow birds. More and more farmers in the Netherlands want to contribute to biodiversity, however, fields are often too dense, which leads to a lower insect population and it is more difficult to walk for the chick. It takes many years of extensification before a field becomes attractive for meadow birds. Using drones can help to analyse a grassland's condition, and farmers can adjust their policies accordingly.
4D Precisienatuurbeheer wants to bring together technical knowledge and practical experience. They are equipped with a drone with a multispectral camera, which flies over peat grasslands. This is to map both the state of the field. Ecologists, biologists, and other researchers help determine the grassland's state and how suitable it is for meadow birds. A drone can survey a large area in a short time. It leaves no scent traces and is hardly disruptive. The objective images not only help with last-minute decisions but also with monitoring and adjusting management in the longer term. In addition to this cooperation, 4D Precisienatuurbeheer also has a service to map meadow birds. As a farmer, you can let them fly over your field to know if birds are nesting.
Actions to take
When birds are nesting on the field, the following measures are favourable:
Installation of nest protectors/nest markers
Planting (and maintenance) of hedges
Planting (and maintenance) of woody vegetation
Mowing after the 22nd of June, preferably after the 15th of July (depending on the type of bird)
No fertilisation and low livestock density
Development and management of herbaceous grasslands
Maintaining high winter and spring water levels to prevent desiccation of the soil
Adapted mowing techniques: game rescuer, from the inside out, low speed
Additional effects of the drones
In Brakel Belgium, twelve newborn fawns were tracked down by a drone with a thermal camera. They were lying in long grass, so they ran the risk of being run over by a mower. The animals were taken to a safer place. Full article here (In Dutch) https://www.vrt.be/vrtnws/nl/2022/05/27/pasgeboren-hertjes-gered-van-de-maaimachine-in-brakel-dankzij-dr/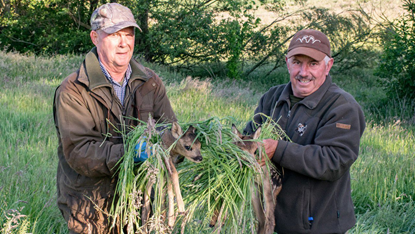 Little fawn rescued
Impact on farm performance
Socio-economic resilience: Price: sometimes such a service has a cost (€500/session - Falcoflight)
Animal health and welfare: By using drones, less stress is present in the meadow birds and less chance for predators to find the birds
Production efficiency and meat quality: Avoiding mowing casualties (e.g. birds remaining on the nest during mowing) in the hay is positive if botulism is to be avoided
Environmental sustainability: By helping meadow birds to have a safe spot to breed and nest, biodiversity is increased
Audio-visual material
https://www.falcoflight.be/vogels-in-nesten (Dutch)
https://4d-precisienatuurbeheer.nl/boerenlandvogelbescherming/ (Dutch)
Sources
https://www.falcoflight.be/vogels-in-nesten (Dutch)
http://www.kortwegnatuur.be/docs/van_stakker_naar_held.pdf (Dutch)
https://www.wur.nl/en/newsarticle/Aerial-monitoring-for-more-biodiversity-.htm (English)
https://4d-precisienatuurbeheer.nl/boerenlandvogelbescherming/ (Dutch)
https://agrosproject.com/ (English)