Rural tourism is in the spotlight in many French departments. Indeed, in some departments, where the density of livestock is high, farmers open the doors of their farms to share with tourists their history, their daily life and their know-how.
Description of the good practice
Francis raises 85 Salers cows on 150 hectares of grass in the Cantal department. In addition to his activity as a breeder, he and his family regularly welcome tourists to their cottages, close to the farm.
Tourists are invited – if they wish – to visit the farm so that Francis can introduce them to his daily life as a breeder. In order to limit the stress of the animals during farm visits by outsiders, he installed an audio system, allowing music to be played in the stall. The cows have quickly become familiar with music and external noises and are in fact much less fearful of visitors.
This installation is inexpensive and takes just a few days for the cows to get used to this new ambient noise, provided that the music is not too loud or too aggressive. Visitors also seem satisfied with the atmosphere of the building and intrigued by this initiative. They are more interested in the work of the breeder on the well-being of his animals. Francis wanted to establish real relational strategies by considering the animal as a partner.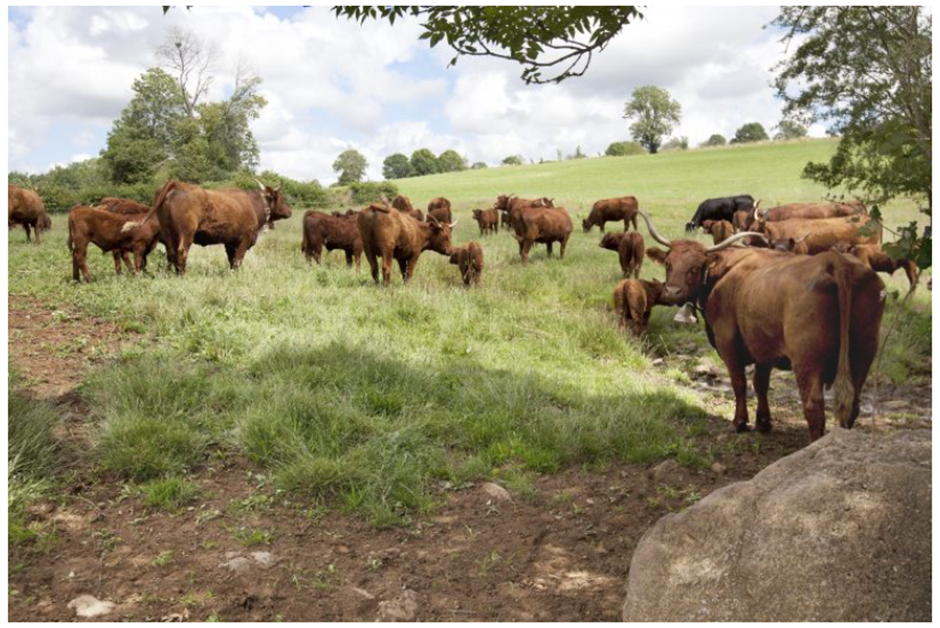 Impact on farm performance
The last third of gestation, the fetus is sensitive to external events. By implementing non-stressful practices for the mother, the calf's behavior at birth will be different. Also, from a young age, calves will rely on their mother's behaviors.
During the weaning period, the calf is very stressed at the time of separation from its mother. Having positive contact at that time with men will help the calf to have fewer fears in the future.
Farmer comment
"At first playing music seemed like a strange solution. But putting this solution in place allowed to limit the stress of animals when visitors came to the building. This actually allowed me to invite more visitors to see my animals, and allowed the animals to get used from an early age to the presence of people"
Further information
https://www.interbev.fr/initiatives/de-la-musique-pour-des-vaches-moins-craintives-et-pour-ouvrir-le-dialogue/