Prior to slaughter acute animal stress may occur associated with a host of stressful events, such as transport, management or exposure to unfamiliar environments. During this period, it was reported changes in animal's physiology, such as display symptoms of hypoglycaemia, dehydration, osmoregulatory ion imbalance, and increased protein catabolism demonstrated among other things, by the loss in the live animal weight, carcass yield and the prevalence of dark-firm-dry (DFD) beef. This implies an economic impact and also concern in animal welfare.
In view of these changes, it would be a logical expectation that an animal's nutritional requirements would also change during such periods of stress. Just as it is reported and understood for example in human sports medicine, that nutritional needs change during periods of stress. For this reason, studies have been carried out to examine the impact of ante-mortem nutrition on carcass yield and meat quality.
Studies were conducted with the purpose of using a nutrient complex to simultaneously treat several known physiological insults that occur in transported and held cattle. Firstly, replacement therapy for the depletion of osmoregulatory ions, notably sodium, magnesium and potassium. Secondly, the provision of selected amino acids in by-pass form to reduce protein catabolism and provide neurotransmitter precursors, and finally, the provision of an energy source to treat hypoglycaemia.
Schaefer et al. (2006), carried out a study offering a nutritional therapy to animals in pre-slaughter. The animals were submitted to 3 diets: 1) control: only water 12 to 24 h pre-slaughter, which is industry standard practice; 2) placebo: 2 kg per head of a rice hull-corn-based pelleted feed for 12 to 24 h pre-slaughter plus ad libitum water; or 3) nutritional therapy: 2 kg of a nutritional supplement plus ad libitum water for 12 to 24 h pre-slaughter. The nutritional therapy treatment consisted of a pelleted corn-based product containing glucose, sodium, potassium, magnesium, and amino acids including alanine, lysine, phenylalanine, methionine, threonine, leucine, isoleucine, valine and tryptophane. All in a bypass form.
The advantages of the treatment were noticed with a greater carcass weight, better USDA carcass quality grade with 20% or greater retention in such score and a significant reduction from 4% to 1% in DFD beef, as show in the following table modified from Schaefer et al. (2006). The economic impact of using nutritional therapy was in the order of $22 per head for 362 to 408 kg carcasses in Canada (Schaefer et al., 2006).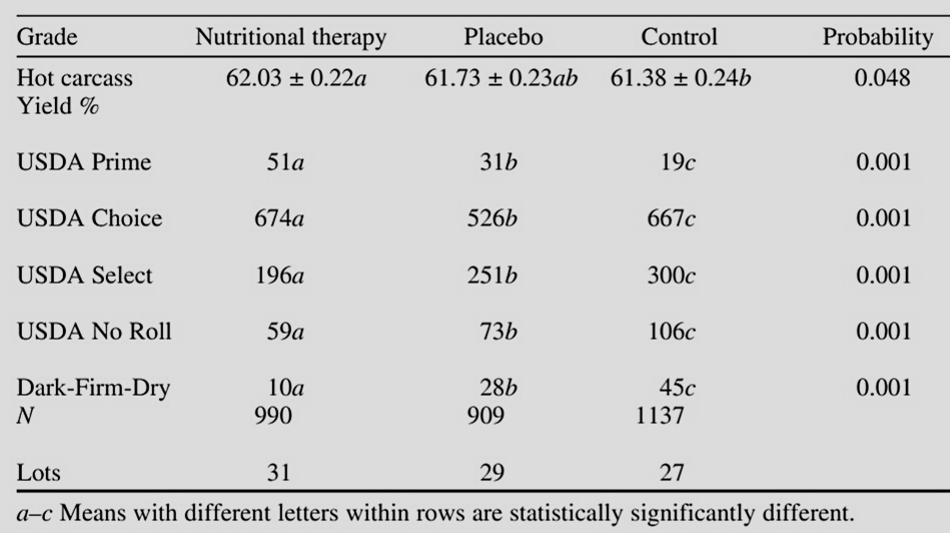 A similar study was carried out by Grumpelt et al. (2015), however the treatment was provided at farm, before transport. A total of 190 steers were feed a cereal–silage-based diet and ad libitum access to water. Twenty-four hours prior to transport, half the animals received 1 kg of a nutritional therapy (DeStress, Canada) onto the normal silage diet. The beef cattle supplement contained selective bypass amino acids, electrolytes and an energy source, as showed in the figure below.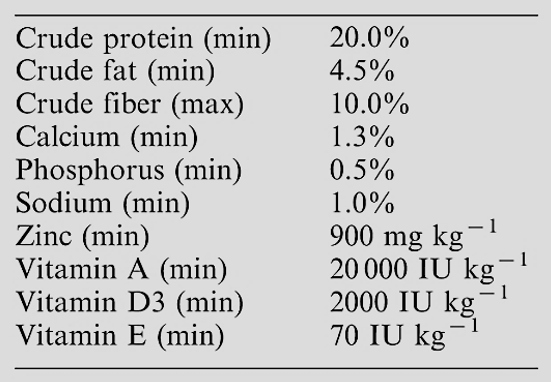 As results, the animals receiving the pre-transport nutritional therapy had a reduction in live weight loss (4.7 % of loss in the control and 2,7 % in the treated animals) and an improvement in 1.2% of the hot carcass yield compared to control. Many pre-slaughter stressful events are not in the hand of beef farmers, but it can affect their income. In this sense, nutritional therapy could be helpful to the animal, the farmer and the processor.
Impact on:
| | |
| --- | --- |
| | The economic impact of using nutritional therapy for cattle held in lairage was in the order of $22 per head for 362 to 408 kg carcasses (Schaefer et al., 2006). |
| | The reduction of weight loss in the transported animals is an improvement in the ante-mortem welfare of the cattle. |
| | Beneficial to carcass yield, reduce the incidence of DFD beef and better USDA carcass quality grade. |
| | More commercialized meat with the same number of animals. |
Authors: Jakeline Vieira Romero, Virginia C.Resconi.
Source of information:
Schaefer et al., 2006. Can. J. Anim. Sci. 86:317-323
Grumpelt et al., 2015. Can. J. Anim. Sci. 95:557-560.
Additional information: