Introduction to the challenge addressed
Carbon sequestration methods.
Permanent grasslands are good carbon sinks. However, from a farmer's point of view, their quality in terms of yield may seem to be inferior to that of short-term grasslands. The aim of this good practice is to explain how to improve the yield and species richness of permanent grassland without breaking up the sward and ploughing. The farm is 150 animals, angus and simmental breed suckler cows, grassfeed, pasture fattened heifer and steers in Estonia.
Description of Innovation
When hay bales are fed on pasture, the rolls are either left in the same area after being made into the hayfield, transported together in rows, or brought in from elsewhere in the hayfield with a more valuable seed bank. It is important to remove the nets from the rolls before the frosts to avoid leaving plastic on the grassland. Additional biomass which is returned to the soil through trampling, results in increased carbon sequestration.
Bale strips are also a valuable source of seeds for the pasture, so by spreading them you are increasing the seedbank of the pasture.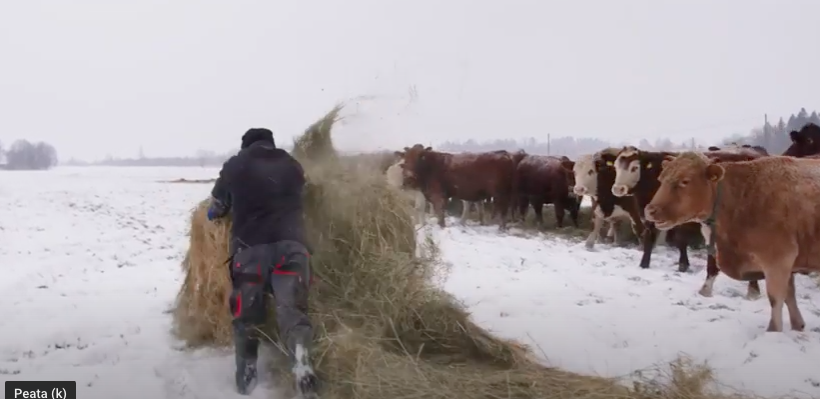 Additionally there is the animal health argument, by using strip bale grazing you can extend the season that animals are outdoors, which is beneficial for their health and which resembles more their natural behaviour.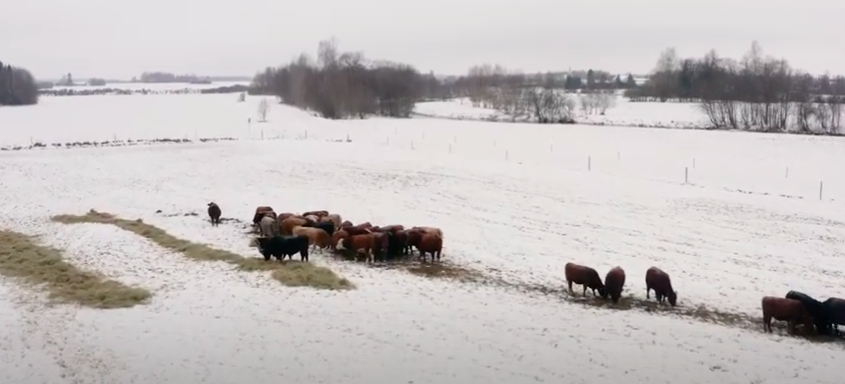 It can be seen as a labour saving tool, for a period - in Estonia- reasonable to do November-December.
Impact on farm performance
This good practice results in less cost for mechanical work, ploughing, manure transport and spreading. This good practice extends the length of time animals spend outdoors, improves animal health and welfare and the social acceptability of beef cattle farming.
This good practice results in less working time per animal. This practice has no negative impact on animal performance or meat quality if temperature and rainfall are monitored flexibly, i.e. animals are moved from the pasture when the weather becomes very wet. Cold weather does not affect animal welfare, and the owner can provide shelter from the wind, for example by setting up rows of hay racks. The use of hay rolls is suitable for permanent pasture as well as for providing additional organic matter to the field in the form of manure and forage residues. In spring, if necessary, the field can be harrowed to achieve a more even distribution of organic matter. It is important that the animals move evenly across the field, avoiding trampled areas - this can be achieved by dividing the field into portions.
Farmer comment (for Good Practices)
"It's amazing how easy bale grazing is in practice . The important thing is the constant movement with the animals. Every day the bait is in a new place so that the whole field is evenly covered. The only concern in our climate is keeping drinking water ice-free at all times." Estonian farmer.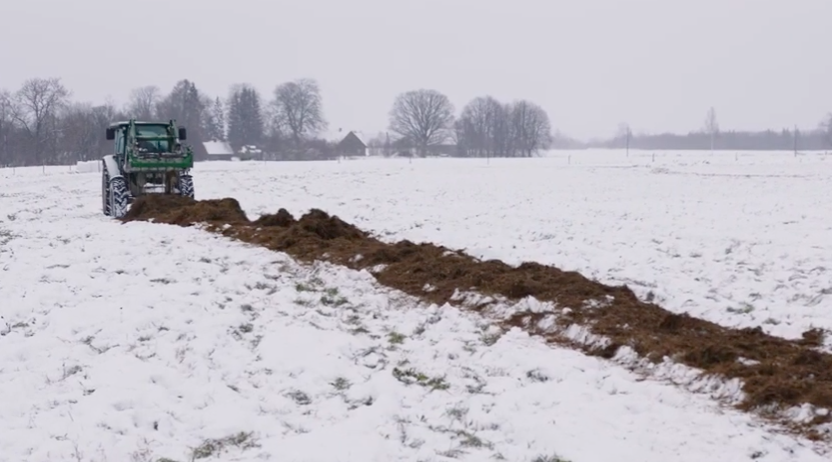 Further information
Bale grazing Canada https://www.gov.mb.ca/agriculture/livestock/production/beef/pubs/baa05s04j.pdf
https://www.saskatchewan.ca/business/agriculture-natural-resources-and-industry/agribusiness-farmers-and-ranchers/livestock/pastures-grazing-hay-silage/bale-grazing