Breeders can use genetics and in particular the genetic indexes associated with each selection animal (bull) to integrate an improvement in the performance of their herd, on meat quality criteria.
Description of Innovation
In genetic selection programs for suckler breeds in France, meat potential (muscular development, growth, skeletal development, carcass yield, feed efficiency) is at the heart of the questions and desired improvements.
After each control phase (on farm, on station, on progeny), a genetic value index is calculated for each trait worked on. A global index summarizes each major skill set.
Each breeder can thus make his choice of breeder on the basis of objective criteria and according to the combination of aptitudes most appropriate to his objectives and his operation, in France or in the world.
The butchering aptitude indexes are obtained from the fattening performances ("live" index) of young cattle supplemented by the slaughter results ("carcass" index) for bulls in progeny evaluation:
• "Growth Potential" (GP) translates the live weight at standard age at the end of fattening.
• "Muscular Development" (MD) translates live muscle conformation at the end of fattening.
• « Synthesis of Live Meat Skills" combines the GP and MD indexes.
• "Synthesis of Meat Abilities in carcass" combines all the indices linked to the characterization of carcasses: Carcass weight at standard age, Carcass yield, Conformation of the carcass, Importance of internal fat and meat color.
In France, at the national level, there is a federation called 'Races de France'. This federation:
Brings together the Selection Bodies of the different breeds

Represents its members and defends their interests with national and European public authorities, all national and European bodies linked to livestock farming: inter-professional bodies, technical institutes, professional and trade union organisations, as well as bodies in charge of implementing value of livestock products and territories

coordinates and supports the action of its members, in particular in the performance of their regulatory missions

defends a vision of breeding reserving a central place for breeds in their diversity, for an enhancement of territories and sectors

acts for the preservation and development of biodiversity (animal genetic resources).
It is therefore via the Breeding Bodies that Genetic Selection and this good practice is done with breeders who are members of these structures. The Selection Bodies, in conjunction with the breeding technicians, then carry out performance checks on the animals. Performance monitoring and the collection of associated data thus constitute the first link in the genetic improvement of French livestock.
This control consists for each animal, to weigh it periodically from birth to weaning and beyond to determine weights at typical ages, and to carry out morphological assessment scores of its skeletal and muscular development, according to defined protocols ( including indexes of growth potential and muscle development, for example)
Performance monitoring in suckling farms allows:
• draw up official documents certifying the origin of the animals and their production, useful to breeders and the entire sector.
• improve the genetics of the herd thanks to reliable and certified indicators (genetic indexes) for the choice of culls, replacement heifers, matings.
• optimize herd management by monitoring growth, estimating dairy capacity and skeletal and muscular development, and reliable indicators comparable to other farms.
• determine the genetic value of breeding males and females. This collection of data, reliable and independent, contributes to genetic progress and the calculation of indexes.
Genetic improvements from farms that are members of Selection Bodies then benefit all French breeders (via reproduction and artificial insemination, or even the purchase of breeding bulls)
Impact on farm performance
- Better conformation of animals and state of fattening
- Better valuation of animals
Audio-visual material
Measurements taken on breeding animals to determine genetic index values: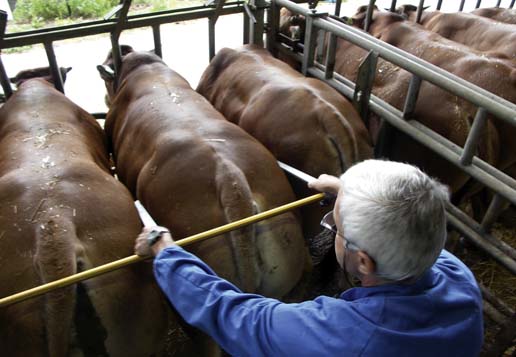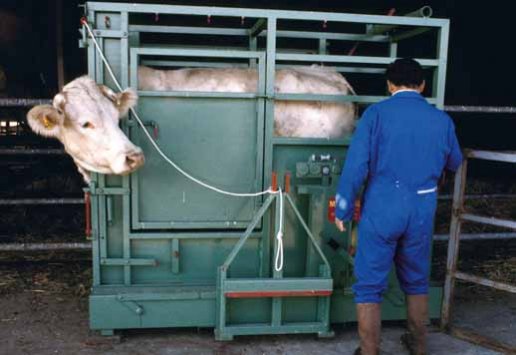 Description by the Charente-Vienne Chamber of Agriculture of a performance check carried out on a beef cattle farm:
https://www.youtube.com/watch?v=Zjs0ar-SssE
Farmer comment (for Good Practices)
Thomas, breeder in the Pyrenees, who practices artificial insemination by selecting breeding bulls according to their genetic index:
I use Artificial Insemination (AI) because of the economic added value of calves. All AI females are sold as IGP Rosées des Pyrénées Catalane. Males from AI are systematically the best weanlings of the lot.
My Charolais bulls also produce good calves. However, AI provides me with several guarantees. First of all, it ensures calving facilities, especially with heifers but also for the entire herd. Then, the insemination bulls offer a superior conformation for the calves. The Charolais cross works very well with Aubrac. This is what made the breed famous originally. This is why I derive satisfaction from selling my good AI calves.
Further information
https://www.eliance.fr/fr/expertises/amelioration-genetique
https://www.limousine.org/fls.html?url_page=france-limousin-selection
https://www.blonde-aquitaine.fr/Accueil/HomePage.aspx