Jane Mättlik is an Angus farmer who is committed to breeding Angus animals but also to promoting grass-fed beef. Jane has also been elected ELKS (Estonian Beef Breeders Association) Board Chair for two terms.
Breeding has been a long-standing hobby and passion for Jane and her family, and she has initiated many good practices and innovations that are helping the whole sector move forward.

Photo : Jane with her breeding bull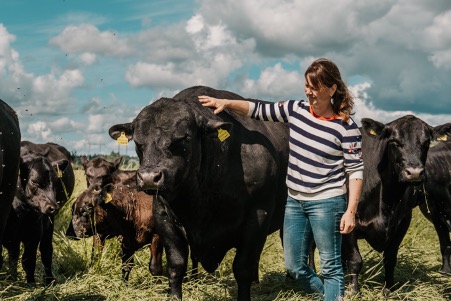 Jane heard about the Neogen test at the 2017 Angus Word Forum in Scotland, where there were presentations on its use and results. So she started looking for ways we could use it too and found the Eurofinsi lab in Germany who provided a neogen igenity test service. The lab sent the farmer a delivery note and sampling instructions, which were simple, i.e. a hair follicle sample is used.
However, the farmer was also interested in using the services of Neogen's lab to study the MSTN gene , and as a tissue sample was needed - she started to investigate the possibilities of obtaining it more easily.
This is how she came up with the Caisley ear tags, which can make it easier to take a tissue sample from a newborn small calf. So she collaborated with the Estonian Livestock Performance Recording Centre, which then placed an order for the ear tags for the Estonian side of the test. Jane also introduced the DNA ear tags to ELKS members and so the associates were able to place a sizeable order, and at the same time make it easier for many other beef cattle breeders to determine the pedigree of their animals.
Today, following Jane's example, other Angus breeding farms have started sending Neogen tests to their sale animals and this is also done for all young bulls sold at auction.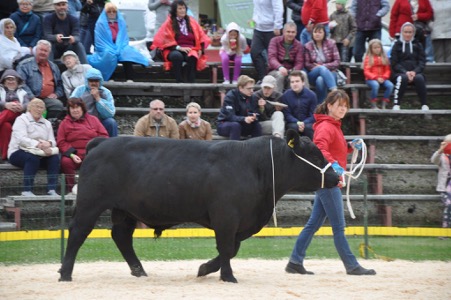 Photo: Jane is at the show with the bull
Farmer uses the results of the Neogen test to select his bulls. He sends hair analyses of all potential breeding stock to the Eurofins laboratory in Germany.
In addition to the 16 traits of the Neogen test[u1] , the farmer also uses the local performance traits and the results of the linear phenotype assessment.
The selection of the marbling assessment is made by the farmer on the basis of the Neogene test, which has a probability/precision of 47%. Which is still more than other pedigree vendors offer. Therefore, on average, the farmer is more successful in selling animals.
Different buyers are interested in different traits that need improvement, so Jane also advises her buyers, and recommends that they look for 1-2 traits that need improvement, not more. Jane's farm is a conventional farm, but still focused on grain-free feeding and one of the main breeding objectives is to get the best from the grassland and produce grassfed beef.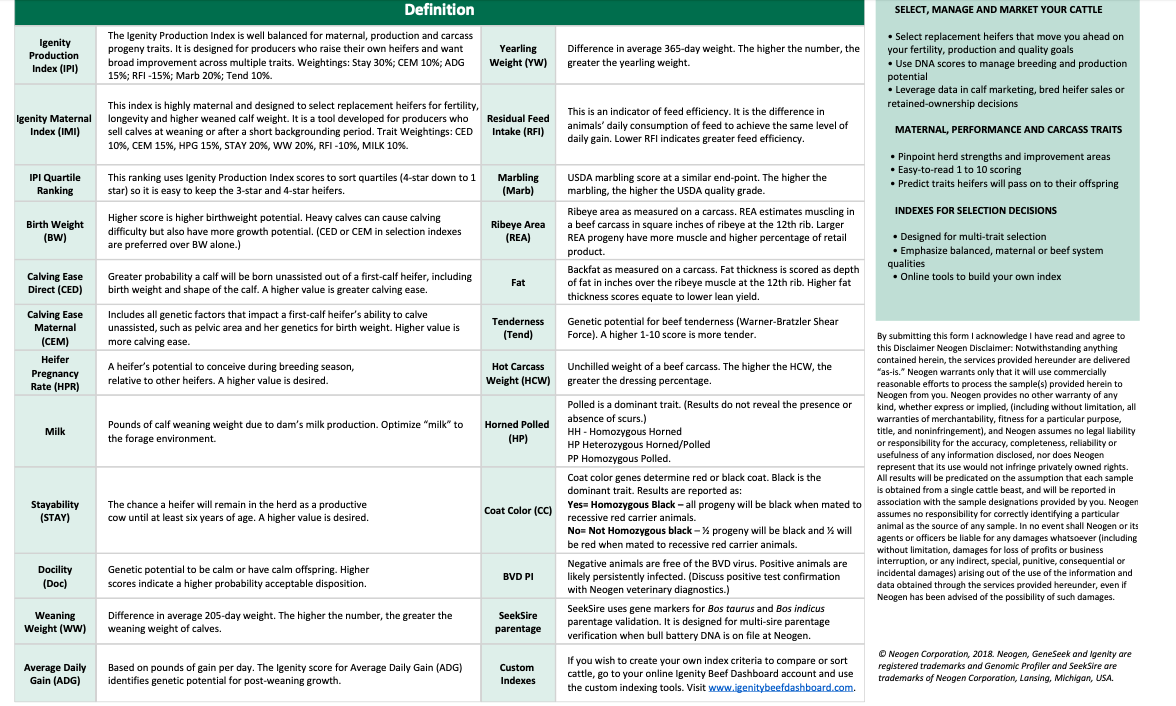 Photo : Neogen 16 traits definiton
More marbling from grassland has been Jane's goal for several years, so the results are also visually apparent to potential buyers, as the farm also does some direct marketing of meat. Each year, the farm sells meat from some animals to its customers 3-4 times a year. Some of these days are also associated with greater public attention, such as the annual Open Farm Days held from 24 to 25 July , which include an on-farm restaurant , with top chefs, where the beef is then cooked from nose to tail. In addition, the animals are marketed for Christmas, Midsummer and Spring Festival and marketed through social media advertising.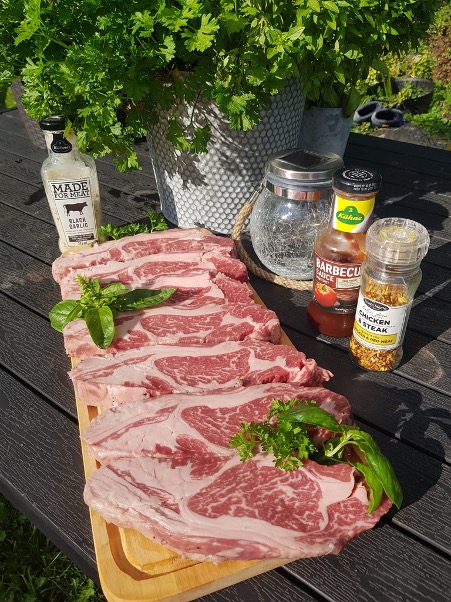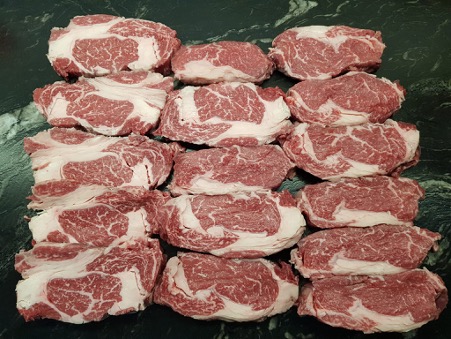 Farmer comment (for Good Practices)
Increasingly, there are more and more pedigree bull buyers who are aiming to get marble meat from grassland. The Neogen genetic test provides some assurance of this, along with monitoring of other traits. From year to year I have been looking at the animal records of different countries (USA, UK, Germany) from which we order semen and aim to monitor marbling and fat content. For the last 3 years we have also successfully transplanted embryos. Different animal buyers have different desires, which I can then help with the decisions I make when choosing my bulls. At the same time, increasing the meat marbling on grassland is a growing demand for us every year and relying on the Neogen test results gives me some confidence as a seller, in addition to the fact that providing quality meat through direct sales is also a very good selling point - Jane Mättlik , farmer.
Further information
https://www.caisley.de/en/ - geno ear tags
https://www.neogen.com/en-gb/categories/igenity-profiles/
https://lihaveis.ee/seltsist/juhatus/
https://www.facebook.com/pirgoangus ( Jane Mättlik farm and label)